One of Hong Kong's most iconic attractions, a cable car that takes visitors to a giant Buddhist statue near a hilltop monastery, will reopen this weekend after being closed for more than six weeks due to the Covid-19 outbreak.
Operators of the Ngong Ping 360 attraction – which suspended services on January 27 – vowed on Friday to take all necessary precautions to minimise any risk from the coronavirus, which has forced most of the city's biggest visitor draws to close.
The company said it would offer partial services until the end of March, at which point it would review its decision.
Ngong Ping 360 is Hong Kong's second major tourist attraction to resume services in a week, after Sky100, an observation deck on the 100th floor of the International Commerce Centre in West Kowloon, reopened on Thursday.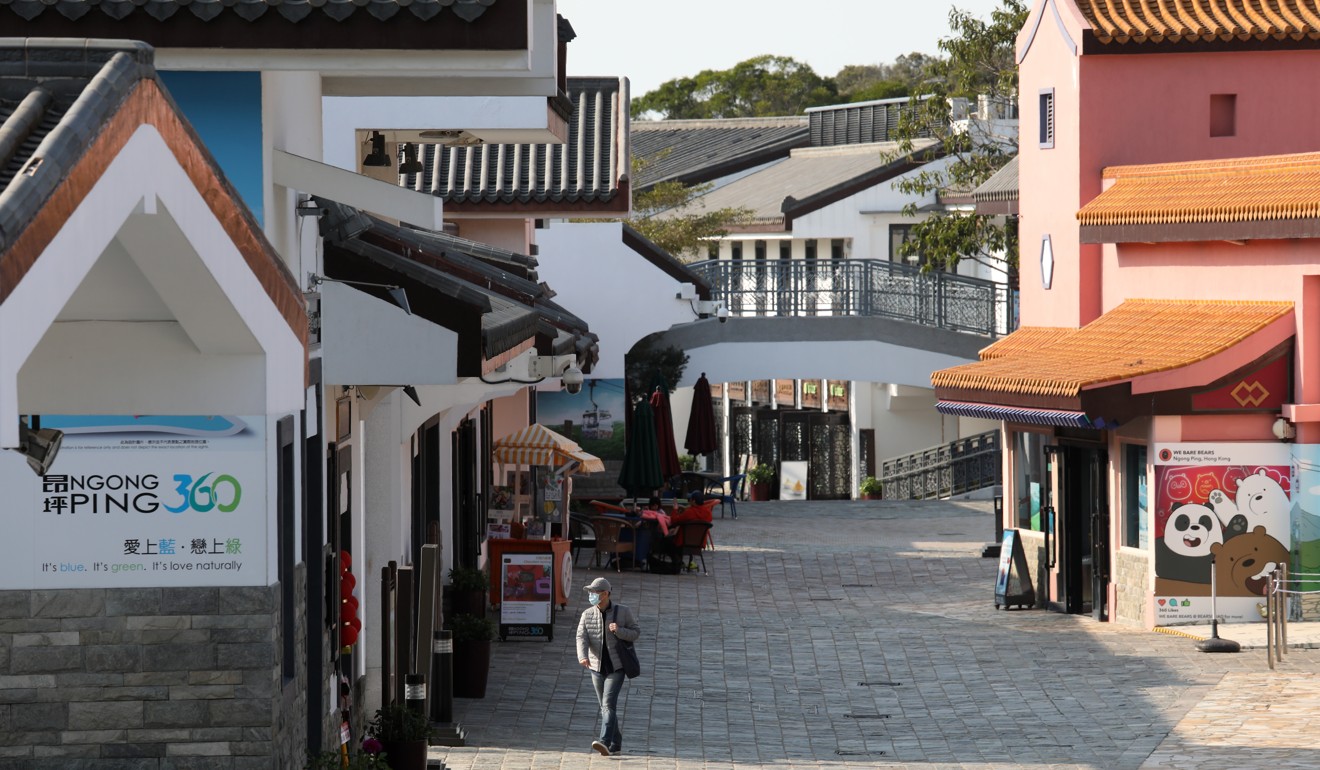 Few tourists were visiting the Big Buddha in Ngong Ping on Lantau Island late last month. Photo: Nora Tam
Other top destinations for visitors – such as Ocean Park, which offers amusement rides and animal exhibits on the south of Hong Kong Island, and the Disneyland Resort on Lantau Island – have been shut since January.
Despite the government's decision to gradually resume services at leisure and cultural centres, social gatherings and overseas travel are discouraged.
Covid-19 has spread quickly throughout Europe and the United States this month, after sweeping across much of Asia, and the Hong Kong government has responded with tightened immigration measures due to take effect at midnight on Friday. Visitors coming from Italy, and parts of Germany, France and Japan, will be subject to a 14-day compulsory quarantine upon arrival.
The Ngong Ping 360 attraction takes visitors on a 5.7km journey over about 25 minutes from Tung Chung to the Ngong Ping highlands, home to the Tian Tan Big Buddha and Po Lin Monastery.
Ngong Ping 360 said the restricted service would run from 10am to 4pm from Friday to Sunday, beginning this Sunday. Ngong Ping Village, an indoor market, would remain closed.
The number of people permitted in each cabin would be halved from the usual 10, and all riders must be friends or family, or know each other in some way. Every car will be disinfected after each trip. The cabins, the cable car terminals, Ngong Ping Village and all offices were cleaned and sterilised with a medical-grade substance, while the frequency of daily cleaning would be increased, the operator said.
Tickets will only be available online, and visitors must undergo temperature checks before boarding.
Dr Wilson Lam, an infectious diseases specialist, said the risk of getting infected when riding the cable car was similar to that when using other modes of transport such as minibus or taxi.
"The most important precautions visitors should take are to wear face masks, wash their hands more often after touching any handrail on board and avoid touching their faces," Lam said.
Reference: http://bit.ly/2Qr5qVU